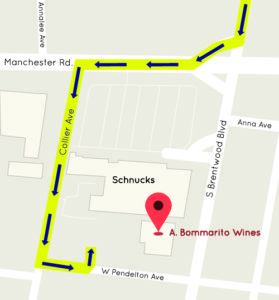 A. Bommarito Wines
2827 South Brentwood Blvd.
St. Louis, MO 63144
***Delivery appointment is required***
Contact:  Pete Ranciglio, Todd Beauchaine or Gerry Eslow
Phone:  314-961-8996
Warehouse delivery days and hours:  Monday thru Friday 9 a.m. – 3 p.m.
Delivery Directions:
Eastbound:
I-64/US40E Use the 2nd from the right lane to take exit 31A-31B for Brentwood Blvd.  Turn right onto South Brentwood Blvd.
Westbound:
I-64/US40W take exit 31B for Hanley Road toward Brentwood Blvd.  Use the left lane to continue toward South Brentwood Blvd.  Use the left 2 lanes to turn left at the 1st cross street onto South Brentwood Blvd.
From either direction continue on Brentwood Blvd South (2 miles) to Intersection of South Brentwood Blvd. and Manchester Rd. (Hwy 100).
Turn right (West) on Manchester Road, then make a quick left (South – 1 block) next to Schnucks grocery store onto Collier Ave.
Drive past Schnucks loading dock.
Turn left (East) at the first stop sign, Pendleton Ave. – this part of the street is only one block long.  We are the building on the left.  Unloading is at the first dock door to your left.  (Receiving Dock).